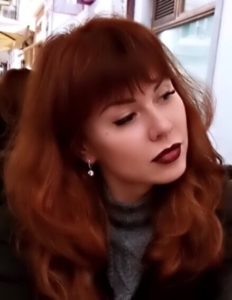 "Kseniya Sergyeyeva, in the constant search for the human essence, ranges from the figurative to the abstract, focusing on portraits, in a modern and essential artistic interpretation sometimes with retro nuances and references to pop art. We can see a well structured compositional technique, where an ingenious combination of oil colors and acrylics on canvas, create an original play of light and shadow. The art of Kseniya transports us in front of a stage, in "listening" to the "monologue" of a solitary character, who resonates with our cultural background and our inner need to decipher the inextricable complexity of existence. The observer is catapulted into a theatrical atmosphere where the silent black frames this fascinating character, who reveals himself inundated by a magnetic polychromatic explosion and a bohemian aura. The artist, with a remarkable expressive ability, focuses the attention on a single protagonist within an eye-catching scenography creating the artwork directly in front of the spectators and at the same time leaving space for improvisation. We discover a dense painting that catalyzes the space, converging the light into an iridescent and fluctuating image of great impact, which unveils the invisible and stimulates the imagination. The artist paints energies with a seductive and throbbing rhythm in a painting where the emotional ferments unleash themselves in a pictorial symphony that emerges with impetus between color contrasts and vibrant shades. Kseniya, an artist with a marked sensitivity, reveals with skill the values of the soul, evoking an intense human experience, a reality that is sublimated and projected into the magical dimension of art. An enigmatic fil rouge crosses her works, free deep thoughts and transfers existential questions tracing an art of inner research, an art for the soul."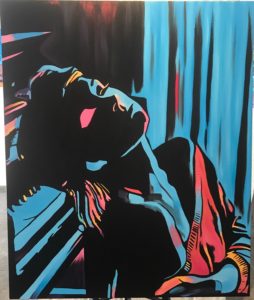 Alessandra Anca Palel, art curator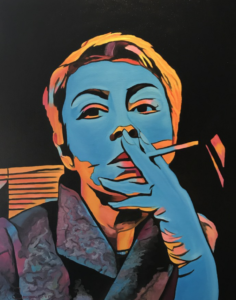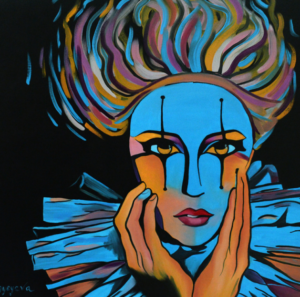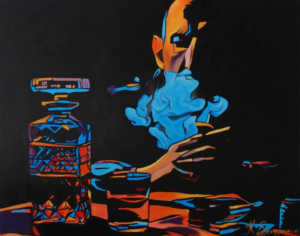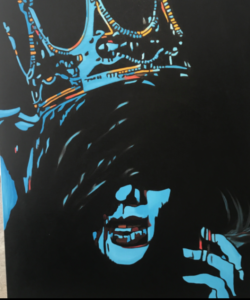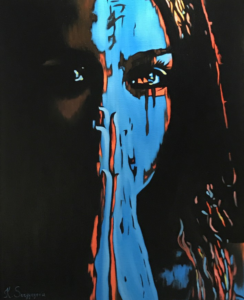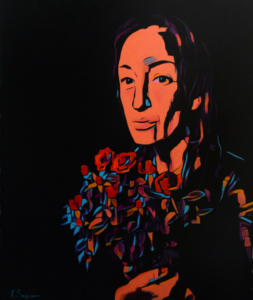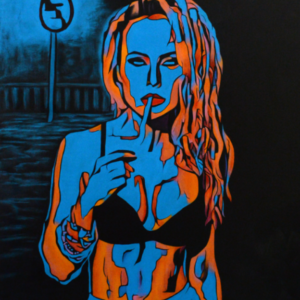 Kseniya Sergyeyeva, an artist born in Ukraine, passionate about design and creative arts, decided to radically change her life, leaving a successful career as a notary in Kiev and moving to Italy, in Sanremo where she opened her art studio, "Kseniya Sergyeyeva Art Studio", to express his soul and his creativity.
Representative of pop art, approaches both the figurative and the abstract and prefers oil and acrylic on canvas and mixed media (acrylic ink or alcohol on artistic panels, art of resin).
The paintings by Kseniya Sergyeyeva were awarded in the charity events of the Yacht club Monaco and are included in the Catalog of Modern Art n ° 53 (Mondadori) in 2017-2018, in the Italian Encyclopaedia of Art on line 2018 and on the website of the international cultural movement "Peace paths and paths of awareness". Her paintings have been exhibited at the art fair "art3f Bruxelles" to then continue in 2018 with the prestigious international contemporary art fairs at   the Palais des Festivals in Cannes and Carrousel Du Louvre in Paris.
Quotations of the paintings on Encyclopedia of Italian Art :
Quotations provided by the artist and curator of the artist Alessandra Anca Palel:
Mixed technique paintings, oil and acrylics on canvas, unique works :
-( 70×100 cm) – 1900
-( 100× 120 cm) – 2500
Kseniya Sergyeyeva :  kspittrice@gmail.com      0039 344 258 1594           www.kseniya-sergyeyeva.com
Alessandra Anca Palel art curator  :  alessandraancapalel@gmail.com      0039 3465735635